BY-800F Automatic... Machine (Longitudinal:2)
Brief Introduction:
● The stamping and die cutting machine is able to process sheet and paperboard and perform stamping, die-cutting, creasing, and hot and cold embossing for paper boxes, corrugate and paper trade marker, an ideal machine for packaging and decoration. With high technology, the automatic process of sheet-feeding, die-cutting, stamping to delivery is achieved. The die-cutting uses the interface, showing the working speed, number of sheet processed, the general running time and the working conditions, and conducting the dynamic rrKxiitor on the input spots and output spots in programmable controller and other various troubles, which contributes to easy trouble shooting and operation. The main motor is controlled by transducer, thus achieving stepless speed regulation and smooth operation. Stamping is computer-controlled, with data-entering by touch screen, and this realizes optimizing programming, with less foil. The 3 heating zones have their separate temperature setting and are in constant temperature. The machines are equipped with many sensors and safety devices, which makes possible normal deration by machines and safe running by operators.
Technical Characteristics:
● Longitudinal and lateral foil stamping devices are equipped wtiich make foil stamping process more reasonable.
● The Longitudinal foil-deliering unit can be pulled out when you install the foil.convenient for operation.
● Pneumatic plate-locking device is equipped which improves the level of automation.
● The front-and-back registration of gripper bars adopts adjustable device.convenient to adjust the precision of front lay.
● Cooling device for lubricating oil is added which reduces the wear of parts when they are heated,ensures the constant pressure of die-cutting and foil stamping.
● Cooling device for electical box is added which inproves the life of electrical parts.
Specifications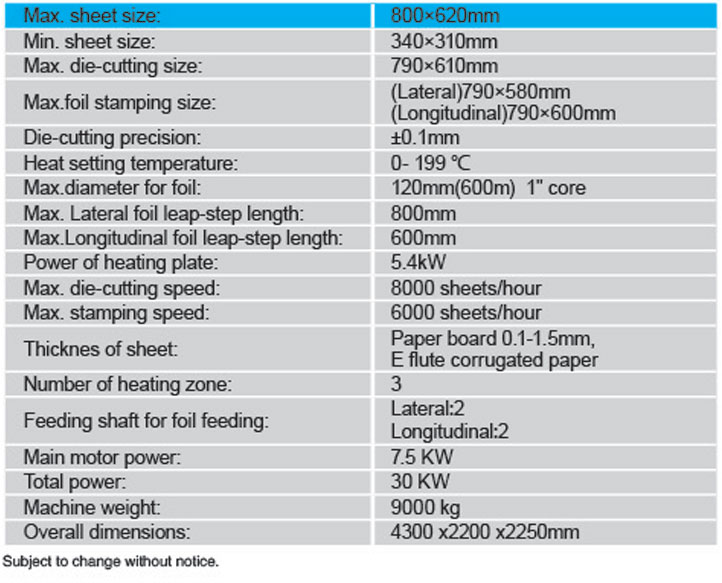 Parts Introduction
Feeding Unit
Pneumatic Clutch
Touch Screen
Longitudinal Unit
Honeycomb plate
Electric Control
Paper-conveying Unit